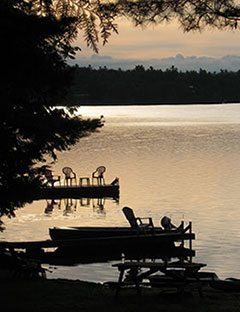 LOGPOINTE COTTAGES IS NOW OPENED FOR BUSINESS!
Congratulations to all Canadian Residents! Our combined efforts to flatten the curve of the COVID 19 virus has been successful and we hope to see a continued positive trend. Logpointe is now officially allowed to be opened for the 2020 summer season. We have enhanced our already stringent cleaning protocols using products that have been aproved by the Health Canada Guidelines approved to kill COVID 19.

Many things about Logpointe are great advantages in what will become our new normal. Each cottage sits a fare distance apart from the neighboring cottage, has private parking areas, docks, and decks enabling you to have as much or as little contact with your neighbor as you please.

We still have availabilities throughout the spring and summer and hope you will consider Logpointe for a safe, social distancing holiday.